Chinese brand Xiaomi has just become the world's leading smartphone brand, beating titans like Samsung and Apple. This is the first time the company has taken control of the world's top spot based on monthly smartphone sales volumes (direct sales). This reading comes after Counterpoint showed Xiaomi as the number 2 brand globally for the entire second quarter of 2021.
These metrics (and the Xiaomi Q2 increase metric) come from recent readings presented by Counterpoint Research's Monthly Market Pulse service. Counterpoint is careful to note that Xiaomi has absolutely not taken the cake from the other two brands. Xiaomi is represented with around 17.1% of global monthly smartphone sales, while Samsung has 15.7% and Apple 14.3%. Xiaomi seems to be the fastest growing smartphone brand, at least in the massive market of China.
Part of the reason Xiaomi is growing at such an extreme rate is Huawei's dip in power. "Since the beginning of Huawei's decline, Xiaomi has made consistent and aggressive efforts to fill the void created by this decline." said Tarun Pathak, Director of Counterpoint Research. It is also suggested by Counterpoint that Xiaomi's growth comes at the same time as Samsung's "decline due to supply constraints".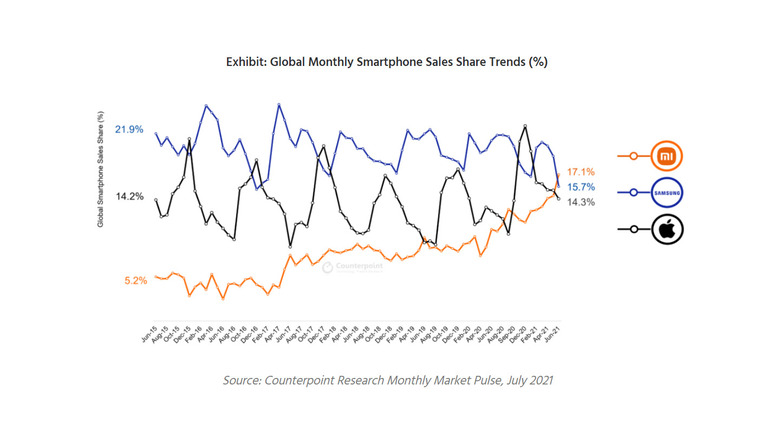 It's highly likely that Samsung and Apple will rise again to match or overtake Xiaomi in unit sales globally once their next flagship smartphone devices are revealed. In general, both brands see a significant increase in unit sales towards the end of the year when their 2H devices are delivered. Samsung's next release will likely be the Samsung Z Fold3 and Samsung Z Flip3 foldable devices, while Apple's will likely be the iPhone 13 lineup.
Take a look at the timeline below to see the main recent highlights in Xiaomi's release universe. While they started in China, they are hitting markets with low-cost and high-quality smartphones all over the world.